Albuquerque Journal - Tuesday, March 2, 1999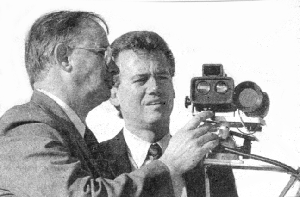 ROAD TEST: George Ingram, left, domonstrates his company's photo-laser system to Albuquerque Republican Sen. L. Skip Vernon in Tijeras Canyon on Monday. Ingram's device tracks speeding vehicles and takes a picture of their license plates.

Laser Gun Aims To Slow Trucks
Senator Proposes State Use System

By John J. Lumpkin
Journal Staff Writer

    A beam of light could be the bane of speeding truckers on New Mexico's interstates if Albuquerque Republican Sen. L. Skip Vernon gets his way. Vernon, the Senate minority leader, has proposed a bill in the Legislature that would authorize the Department of Public Safety to use autornated photo-laser systems to track the speeds of trucks and take pictures of those that exceed the speed limit. Offending drivers would then be mailed warnings or tickets.
    Under Vernon's proposal, the system could be used only on commercial trucks and would be mounted on unmarked police cars.
    Similar systems use "photoradar", a radar gun hooked up to a camera. But Vernon is pushing the use of a system that uses a laser, which cannot be picked up by radar detectors.
    On Monday, Vernon was demonstrating one such system, built by Ingram Technologies of West Valley City, Utah in Tijeras Canyon.
     The setup costs $58,000 and includes two laser-camera rigs which are capable of using infrared light to operate at night, and computer hardware and software to operate the system, said George Ingram, president of Ingram Technologies.
    It costs about $30,000 a year to operate, most of that in wages for operators, Ingram said. Those costs would quickly be recovered by the revenues the system would generate through tickets, he said.
    The proposal is part of a battery of measures Vernon is proposing aimed at slowing down trucks on the interstates, which he says will make the highways safer.
    He also wants to reduce truck speed limits to 10 mph below those for passenger vehicles. Trucking industry representatives are against that proposal.
    Vic Sheppard, managing director for the New Mexico Motor Carriers Association, said the best way to slow speeders, truckers and others - is to put an officer in a marked police cruiser on the highway. Hidden lasers and cameras aren't a deterrent because. they can't be seen, he said.
    "Are we talking about enforcement, or are we talking about a revenue source?" he asked.
    Vernon's bill authorizing the use of the technology goes before the Senate Judiciary Committee on Wednesday.